AladdinB2B Startup: New Generation of Hybrid Trade Shows
March 12, 2021
777

12 minutes read
AladdinB2B startup helps businesses to grow by participating in trade shows. You know that when you're stuck in the loop, if you always do what you always did, you will always get what you always got. So let's think wider and shake the world with us!
It's no longer news that the physical trade events we've gotten used to and love will now be taken online for the foreseeable future. Luckily this particular move or shift towards digital events does not imply that there should be a slow down or stop to stop your plans dead in their tracks.
A virtual trade fair, or a virtual trade show, may sound or look more like an impossible reality. However, using the right virtual event platform, whatever trade show you're having can be every bit as exciting as a live event.
In order to save you from aggravation, as well as to save you valuable time, we have explored some of the advantages and features of one of the best Virtual trade show platforms – AladdinB2B. This article to help you decide why this platform is right for you.
Features of AladdinB2B Startup online trade show
Hybrid fair with Live Streaming
During a live event, the content is broadcast in real-time through the event platform. Visitors to the online fair can follow the event live practically closely in the auditorium.
Capturing useful contacts / measuring success
There is a complete reporting system to measure the success of your fair. You can group visitors into groups or evaluate individual visitor data.
At the virtual fair stands, you can inform your visitors about your company, your products, or professional opportunities.
The exhibition stands are located in a virtual showroom and will be designed according to your company's corporate design. For business-to-business events, each trade show virtual booth is designed separately.
The platform has flexible modules, and provides each stand an individual touch, for example, the video screen of the stand modules, or the document/download area.
In the fair's virtual booths, a live chat allows the exchange between the visitors and the booth staff. Thanks to high-performance technology, many people can be defined as contact persons and, depending on the needs, several hundred visitors can be informed simultaneously.
Lead capture and report with AladdinB2B StartUp
The great advantage of an online fair is the complete data acquisition of each visitor.
The interested parties send the data that you have requested (for example, company, position, areas of interest, previous knowledge, etc.).
All movements of the digital fair are recorded for this unique visitor profile. This includes the individual stands you visit, the informational material you have viewed and downloaded, the lectures you have followed, and much more. This data can be grouped into groups of visitors or evaluated individually.
Simply export the data to your CRM system to continue working with the collected leads, including the rich data, later in the business.
Advantages of online trade show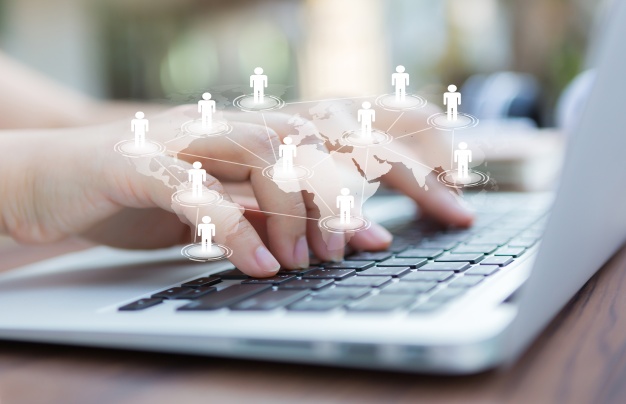 As with all online events, a virtual fair allows you to profit from the just about unlimited reach of the web. By participating quickly and simply in a web trade fair, the amount of participants is often multiplied quite once compared to attending a trade fair.
In addition to scope, the time and cost factor is an important advantage of virtual fairs. In cases where there are often obstacles to participating in a face-to-face trade fair due to travel (time factor) or travel expenses and possibly, hosting (cost factor), these are omitted at an online trade show.
Power
In general, the scope of an online fair is greater than in face-to-face fairs. Using the Internet as a means of communication also makes it possible to reach people for whom visiting a fair is too expensive (for example, for reasons of cost or time).
Also, international participants can visit your virtual fair quickly and easily.
Cost-efficient
A virtual fair is cheaper than a face-to-face fair. There is no need to plan or build any physical booth or produce informational material, and the booth staff does not need additional accommodation or travel.You can use your virtual fair again and again for new events.
Flexible number of participants
Visitors in a virtual trade fair or online fair just need a click of the mouse to participate in the virtual event – also their familiar surroundings without wasting additional time due to possible travel times.
Users can access the virtual exhibition hall using a PC, a tablet PC, or a smartphone (requires internet connection).
Optional anonymity
At some fairs, it may be crucial that the visitor remains anonymous (e.g., at job fairs to not scare off the current employer or special health-related topics).
The online fair allows visitors to inquire anonymously as far as possible without being recognized by their peers.
Additional benefits of AladdinB2B Startup online fairs
The powerful AladdinB2b event platform is at their fingertips for companies to host various online trade show formats.
Management of several thousand visitors to the fair at the same time
Live events can be streamed to the virtual fair through high-performance streaming technology.
Complete reports for measuring success and generating leads at your fair
Powerful
With AladdinB2b's online events software, several thousand people can visit your virtual fair simultaneously. Even from abroad, your fair can be reached quickly and easily with a click of the mouse.
Unique trade show experience with AladdinB2B StartUp
Aladdinb2b startup replicates the feel of attending or hosting a physical event and guides attendees through a rewarding and captivating online experience. Aladdinb2b virtual trade shows does not require you to make any downloads or make use of a specific browser. The features of this platform can be enjoyed on mobile as well as desktop.
Interaction with visitors
For an exchange with visitors to the fair, there are various communication tools:
Group and individual chats
Question and answer rounds
AladdinB2B startup is the greatest tool for exhibition and event organizers. You won't need to multitask and plan everything on a sheet of paper, we will make your work much easier! Together with us, let your advance worrying become advance thinking and planning.